The challenge
For years Qlimax has been Q-dance's indoor showpiece, held in the mighty GelreDome in Arnhem. Show and amazement are key elements during this event. By using mysterious themes visitors go on a musical trip throughout the night.
The organization asked us if we could write a special article about the event, that Q-dance herself could use. It wouldn't have to be about the new theme, but more about the history of Qlimax. Naturally, we took this opportunity with both hands.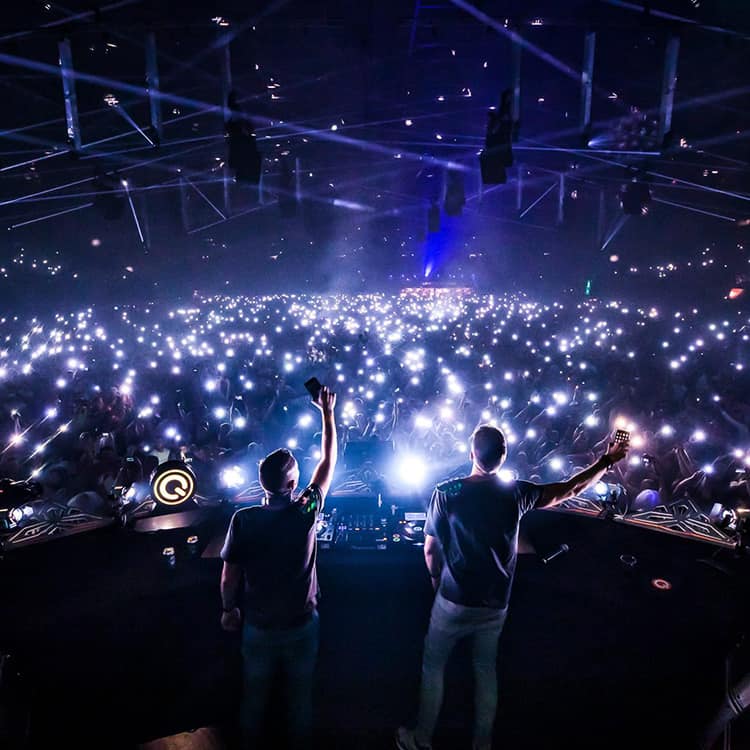 Our approach
THE ESSENCE OF QLIMAX
The idea was to take an interview with one of Q-dance's creative directors, in order to get a clear image of both the front- and the backside of an event such as Qlimax. There are a million things to account for when coming up with such a theme and translating it to a unique show during the event. Qlimax doesn't see itself as just an event, but more of a spiritual and musical experience. That's why we decided to name the article 'The essence of Qlimax'.
Since the story of Qlimax goes back a lot of years, you can write an entire book about it. But the content needed to be snackable, so it wasn't supposed to become a big piece. That's why we divided the article in different chapters, such as 'The foundation', 'The theme', 'The experience', 'The show' and 'The message'.
"The essence of Qlimax lies deep within our minds. It's an emotion. From the moment you set foot in the immense hall of GelreDome, you don't know what your eyes need to focus on. A sudden realization emerges that a higher power is present in the room and is holding you tightly in its grip."
The result was a three part piece with tons of insights. It provides the reader a chance to take a peek backstage and lets them see what the organization is trying to achieve with her visitors during the event and why, conscious or unconscious.
"We stimulate all your senses. It's hard to tell what a visitor is looking for beforehand, but it doesn't matter. You are there, we present something and you are a part of that."