In the year 2019 Spotify had over 271 million active users. At the end of 2019 over 153 million of these listeners used the free version, meaning you can reach this group using Spotify advertising. Offering a wide range of possibilities, advertising on Spotify is the perfect platform to reach your target audiences in a unique way.
Everything in a campaign is about reaching your target audience with the right advertisements at the right time. Advertising on Spotify means specific targeting on demographic data, locations and musical taste. These advantages make Spotify advertising the perfect way to promote your festival!
Why advertise on Spotify?
Unique advertising possibilities through image, video and audio

Specific targeting options, such as musical taste and fans of artists

Reach people off-screen; while driving a car or working out
Spotify advertising possibilities
By using advertising on Spotify you reach your target audiences in several ways. The big advantage of using Spotify ads for festivals is that it offers more and better options to reach your audience. For example, Spotify distinguishes musical content for artists, concerts and festival and non-musical content for brands, companies and products.
Because of the big amount of 153 million ad-based users, Spotify advertising offers a wide range of targeting options, such as fans of artists that are on your festival line-up, musical genres, moods or demographic data and locations. Advertising on Spotify has the following options:
AUDIO CAMPAIGN
In audio campaigns, Spotify advertising offers the option to choose Audio Everything, which resembles a radio commercial which plays in between songs. Another option is using sponsored playlists which put your brand in the limelight.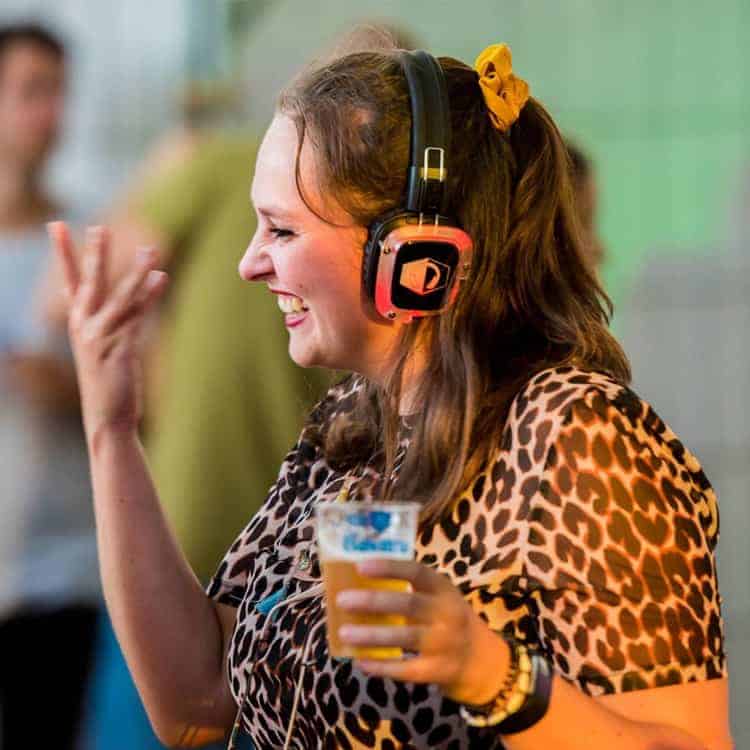 PODCAST CAMPAIGN
By using in-stream ad placements named Streaming Ad Insertions, Spotify offers podcast specific ads that will be played while someone is listening to a podcast. Spotify also offers an option for sponsored podcasts in specific market areas.
VIDEO CAPMAIGN
Do you want to showcase your festival in a visual way? Spotify advertisements can be made with various sorts of video content. Video Takeover plays in between songs like audio commercials. Another option are Sponsored Sessions which offer a 30 minute ad-free experience after watching a video or trailer from your festival.
DISPLAY CAMPAIGN
Display campaigns give you the possibility to advertise in Spotify by placing images in the user's Spotify app. Utilizing an Overlay ad makes your image appear when the Spotify app is opened. Other options for desktop users are the Homepage Takeover in which your festival gets a 24 hour placement on the Spotify homepage. The Leaderbord ad option places your display image during 30 seconds when a user is actively using Spotify to ensure visibility.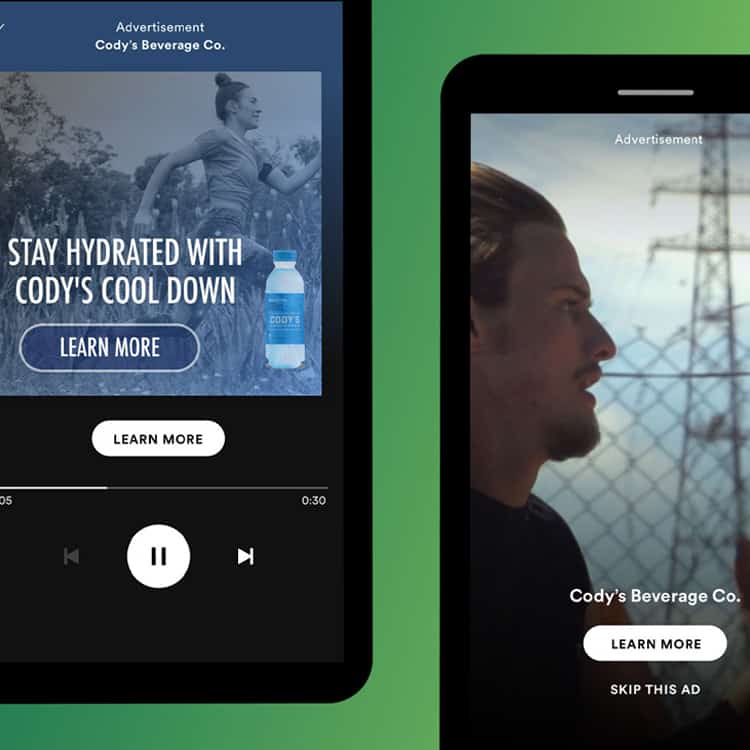 Start advertising on Spotify?
Great to hear! Let us know your question or drop by at our office. We love to explain all the Spotify advertising possibilities whilst enjoying a nice cup of coffee. Through our years of experience in the music industry we have specific knowledge and experience that will boost the results of your Spotify campaign. We gladly support you by determining the right strategy, creating effective Spotify advertisements and managing your campaigns.