De uitdaging
Qlimax is al sinds jaar en dag het indoor paradepaardje van Q-dance, dat steevast gehouden word in de GelreDome in Arnhem. Tijdens dit evenement staat show en spektakel centraal. Door middel van mysterieuze thema's wordt de bezoekers de hele avond meegenomen op een muzikale reis, hoe later hoe heftiger.
De organisatie benaderde ons met de vraag of we een speciaal stuk over het event wilden schrijven, dat Q-dance zelf kon gebruiken. Het zou niet over het nieuwe thema gaan, maar eerder over de geschiedenis van Qlimax. Vanzelfsprekend wilden we deze kans met beide handen aangrijpen.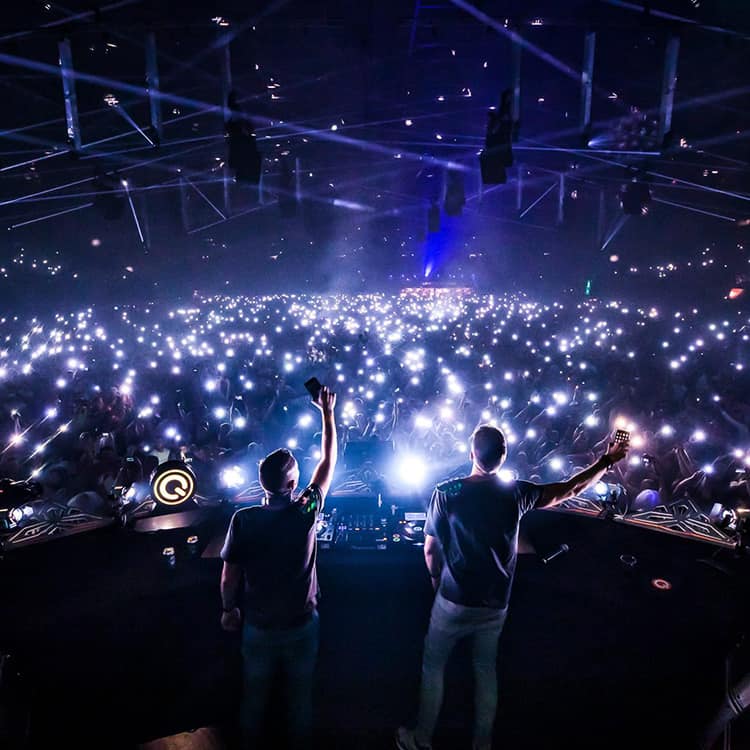 Onze aanpak
DE ESSENTIE VAN QLIMAX
Het idee was om een interview af te nemen met een van de creatieve directieleden van Q-dance, om zo een compleet beeld te krijgen van zowel de voor- als de achterzijde van een evenement als Qlimax. Er komt namelijk ongelofelijk veel bij kijken om een dergelijk thema te verzinnen en deze ook nog eens te vertalen naar een unieke show tijdens het evenement. Aangezien Qlimax zich minder ziet als alleen een evenement, maar meer als een spirituele en muzikale ervaring, besloten we om het artikel de titel 'De essentie van Qlimax' te geven.
Omdat het verhaal van Qlimax al vele jaar teruggaat, kun je er een heel boek over schrijven. Maar de content moest behapbaar zijn en daarom ook geen extreem lange lap tekst worden. Daarom deelden we het artikel op in verschillende hoofdstukken, namelijk 'The foundation', 'The theme', 'The experience', 'The show' en 'The message'.
"The essence of Qlimax lies deep within our minds. It's an emotion. From the moment you set foot in the immense hall of GelreDome, you don't know what your eyes need to focus on. A sudden realization emerges that a higher power is present in the room and is holding you tightly in its grip."
Het resultaat werd een driedelig stuk boordevol inzichten. Het geeft de lezer een kijkje achter de schermen en laat hen inzien wat de organisatie probeert bereiken bij de bezoekers tijdens het evenement en waarom, bewust of onbewust.
"We stimulate all your senses. It's hard to tell what a visitor is looking for beforehand, but it doesn't matter. You are there, we present something and you are a part of that."