Want to discover what Spotify Advertising can do for your brand? In a world where people are constantly exposed to visual stimuli and ads, it gets ever harder to get your message across. That's where Spotify Advertising distinguish itself from other platforms and can contribute to the growth of your brand. We explain how by answering 10 questions.
1. Why advertise through Spotify for Brands?
Spotify Advertising is perfect addition to the marketing mix of your brand. Spotify Advertising's possibilities facilitate reaching people outside of their screen where other platforms can't. Spotify Ads provides targeting options that are unique for the popular streaming platform, like music genres, moods and fanbases of artists. You can combine these with demographic and location data.
Over 147 million users streaming free version worldwide

Various advertising possibilities

Platform-specific ad solutions

Possibility to run audio, video and display ads

Unique and extensive targeting possibilities

Your ads in between the most popular and hottest tracks

Reach people off-screen while they're driving their car, doing the dishes, cooking, partying or working out.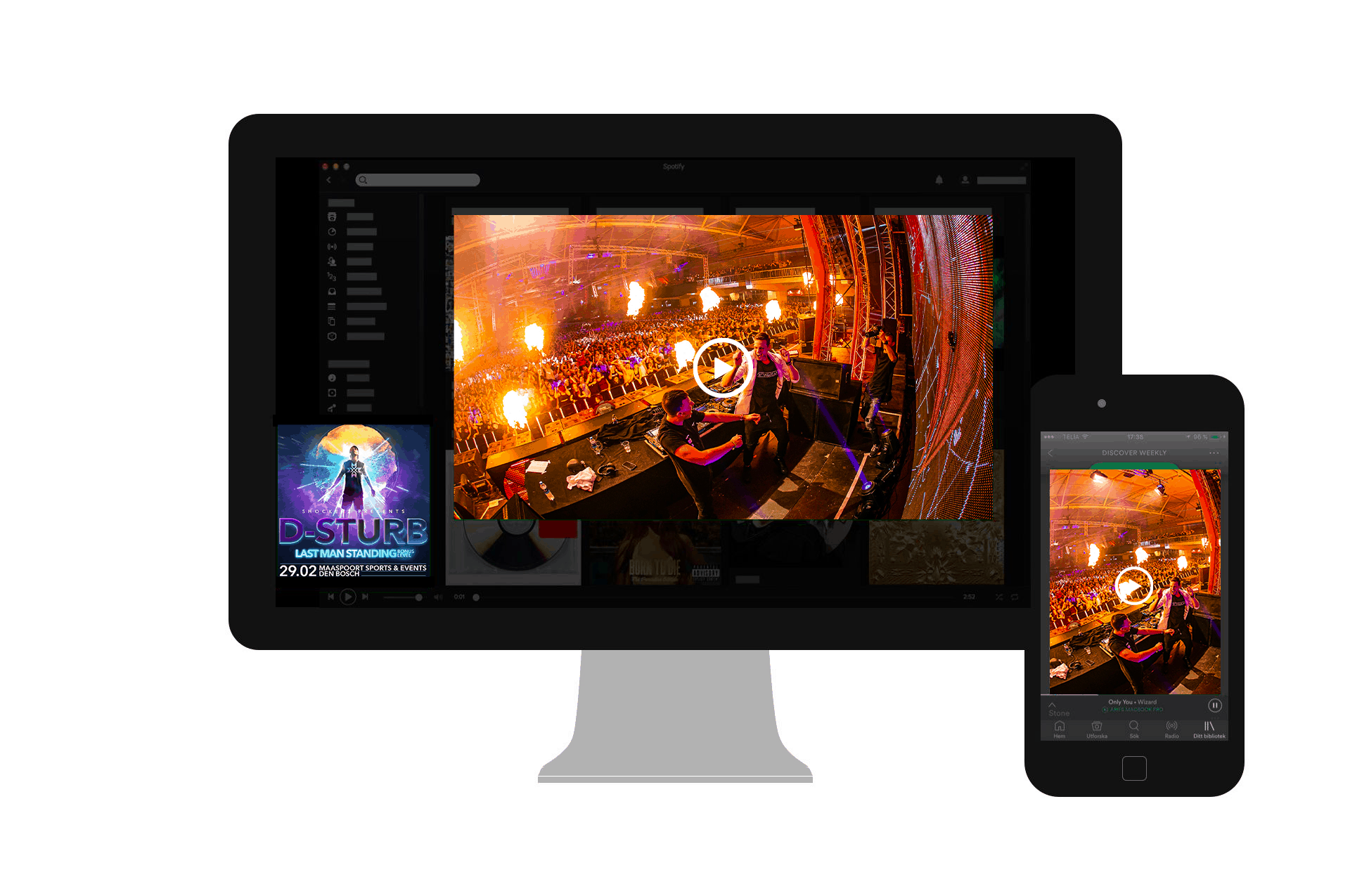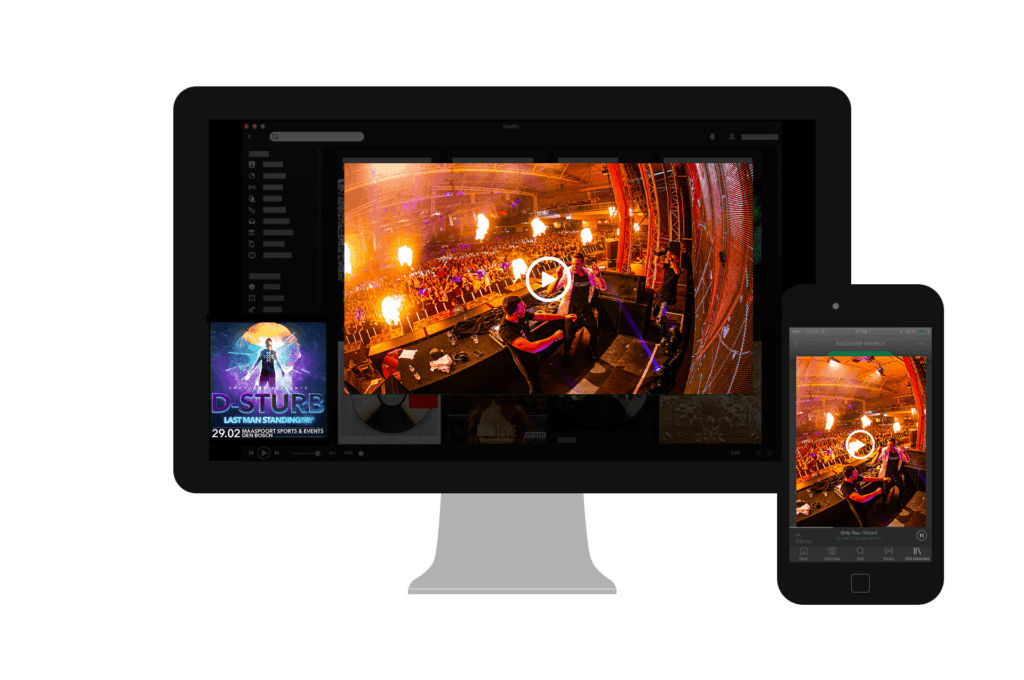 2. How many people can you reach through Spotify Advertising?
Streaming music is booming. There are over 125 million premium subscribers and 147 million using the ad-based version. With a market penetration of 39% Spotify is the number one streaming platform in The Netherlands. There are over 5,2 million Dutch users and Spotify expects to hit the 6,2 million mark in 2020. With over 2,9 million premium subscribers that leaves over 2,3 million people using the free ad-based version that you can reach through Spotify Ads.
3. Which kind of Spotify ads are there?
Spotify Advertising is possible through different kinds of ads. They are split out into audio, display, podcast and video ads.
Audio
There are two kinds of Audio ads. With Audio Everywhere campaigns, your Spotify ad runs in between streaming tracks. You can compare this to a radio commercial. You can also opt for a sponsored playlist: A playlist enhanced with your visual identity and filled with tracks that fit your brand.
Display
Advertising though Display ads means you place images in the Spotify user environment. An Overlay ad pops up directly when people open the Spotify app. A Homepage Takeover (desktop only) places your brand in the limelight for 24 hours on Spotify's homepage. A Leaderboard campaigns places your ad in the app or homepage of Spotify and only when the user is actively using Spotify to ensure views for your ad.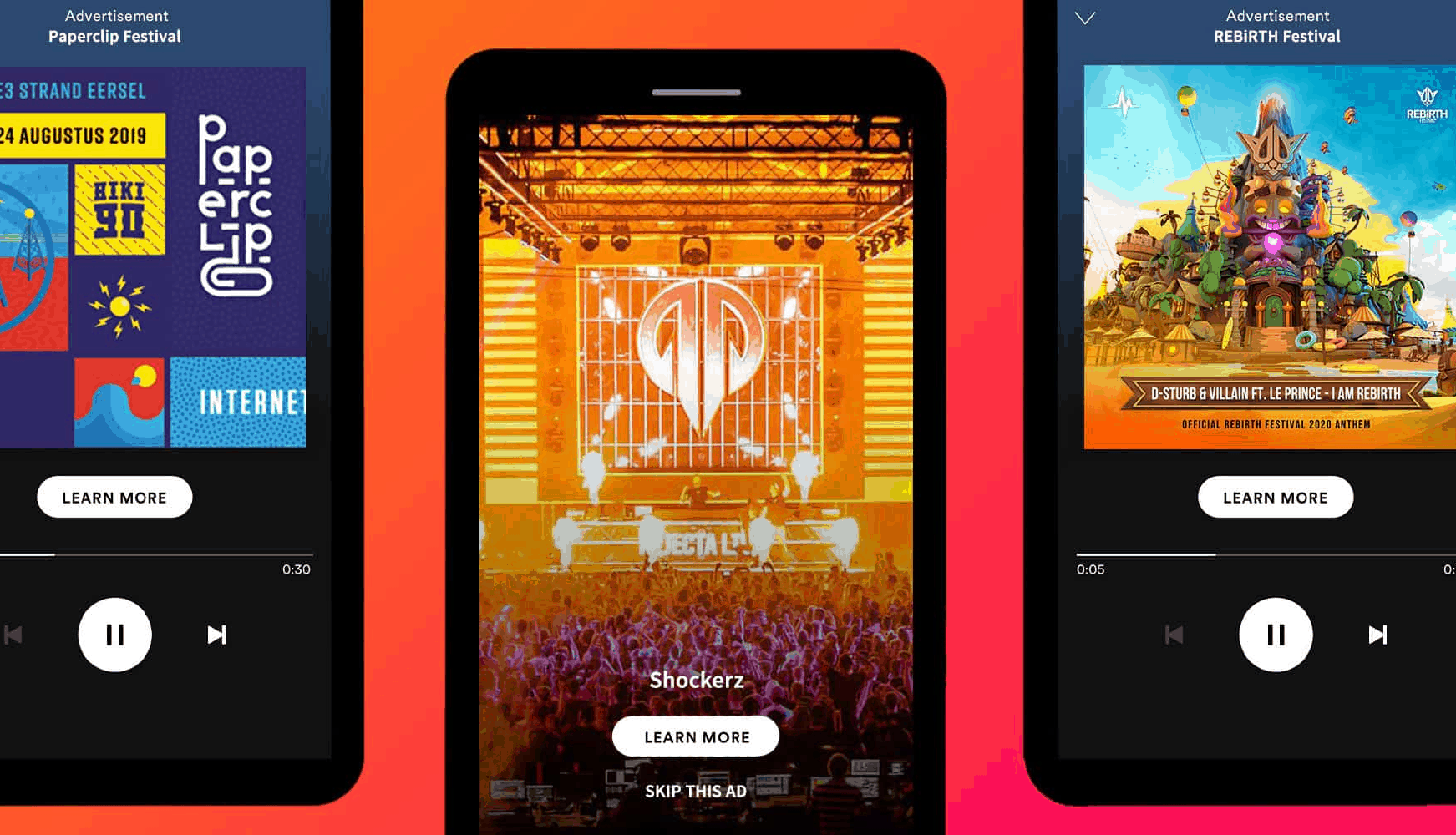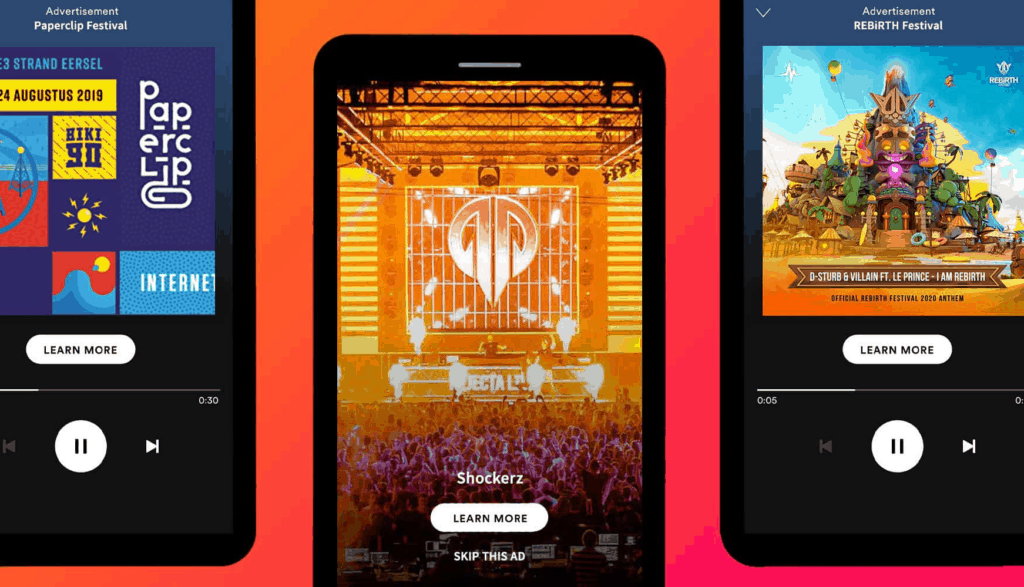 Podcast
Recently Spotify unveiled their Podcast advertising possibilities. The podcast ads are audio ads that are inserted when people are listening a podcast. Spotify calls these "Streaming Ad Insertions". The big advantage in comparison to the others ads is that podcast ads are also inserted for Premium users, meaning you reach the entire Spotify user database. Also new are sponsored podcast, but these remain available in certain markets only.
Video
Video ads have two options for campaigns. A Video Takeover shows a video commercial in between streaming tracks and can be a maximum of 30 seconds. Another option is the Sponsored Session. You reward the listener with 30 minutes of ad-free Spotify in exchange for watching a video ad from your brand.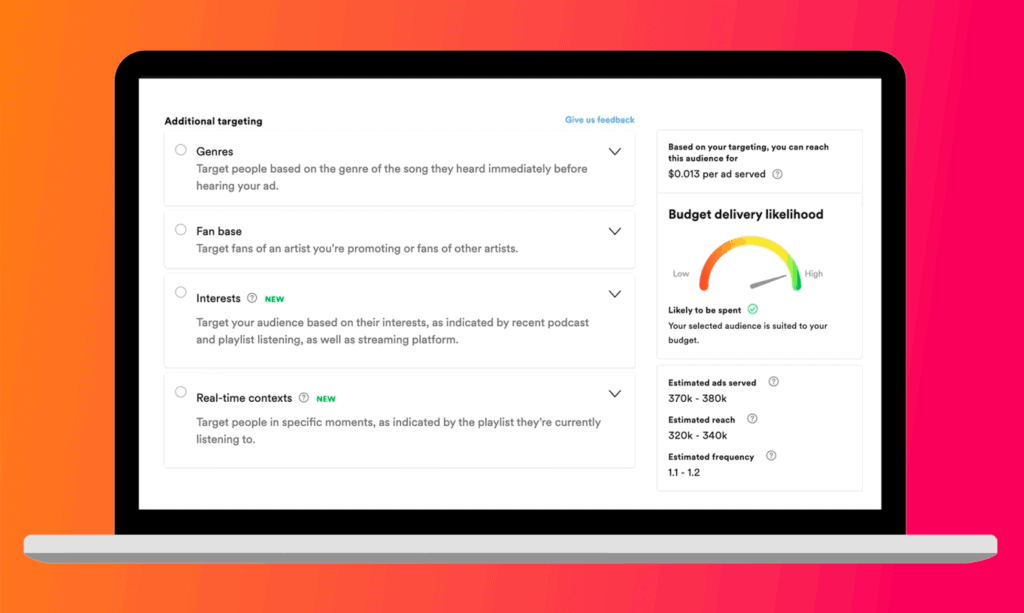 4. What audiences do I reach on Spotify?
Spotify Ads offers a wide range of tools to target the specific people you want to reach. You can target on demographic data, location, interests, musical taste and genres, playlists, moods and context in which people are listening to music. By doing so you reach people at the moment at which the ads are most effective.

Spotify makes a clear distinction between music related and non-music related content. Music related ad campaigns have additional targeting options in contrary to non-music ads. Music related ads can be placed by artists, concerts and events/festivals and give you the option to target specific artist's fan bases. By doing so you make sure your ads are heard or seen by people who are a fan of, for example, your headliner on the event.
5. How much does Spotify Advertising cost?
Where Spotify started off really expensive, requiring multiple thousands of euros to run an ad campaign, nowadays Spotify has lowered the bar an campaigns are available for budgets starting at 250 euro. In combination with the new targeting possibilities you can now reach your audiences with a smaller budget.
By using different kinds of measurement methods like ad interaction, amount of people reached and statistics on conversions et cetera the results of ads on Spotify are manageable, clear and easy to work with. This makes for a user friendly way to monitor your return on investment.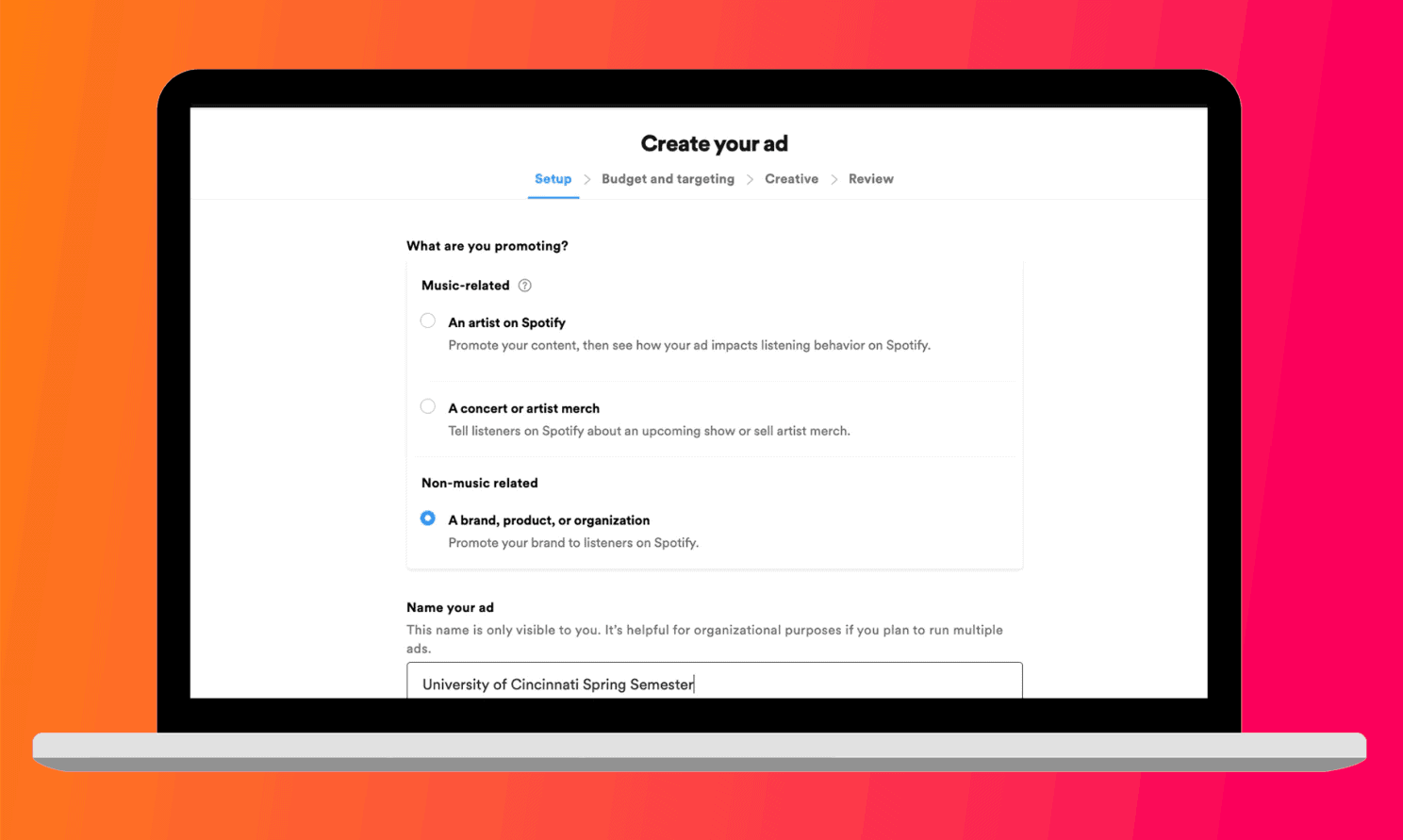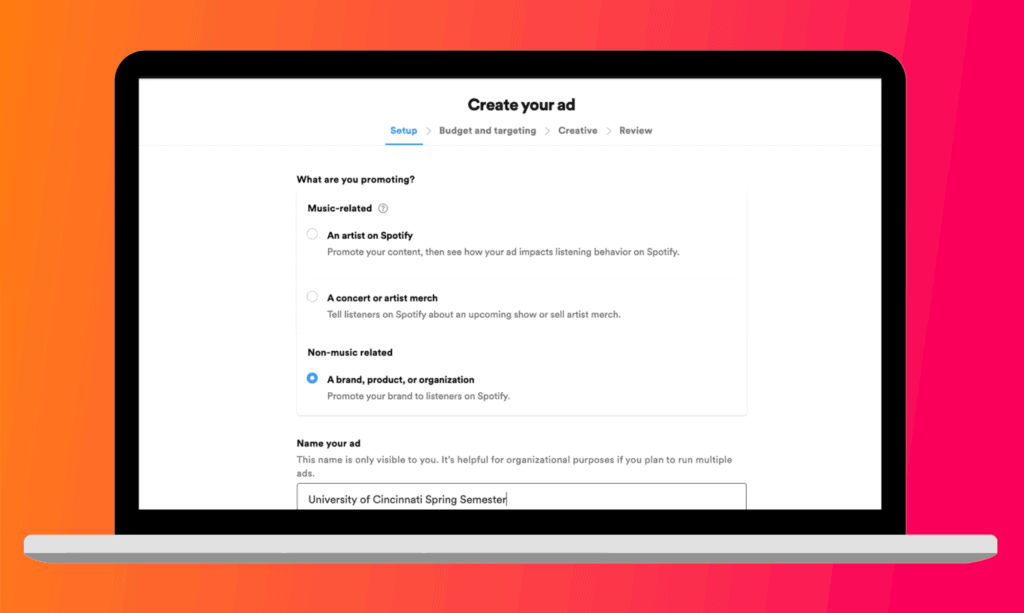 6. Creating a Spotify campaign: Is it fast?
Creating a campaign in Spotify can be done fast. Because of the wide range of advertising materials and targeting options you can reach your audiences in no time. After approval by Spotify your campaign will be up and running and achieving its first results.
When setting up a campaign you start off by choosing a goal. You also choose whether if it's a music or non-music related campaign. That's because there are additional options for artists, events and labels there are additional music-specific targeting options. After this you choose your target audience based on age, location and platform. Then you expand the targeting with the additional options: Musical genre, interests or real time context. Music specific campaigns can add fanbase targeting also.
After creating the campaign and adjusting the audience and targeting the ad campaign will be created and uploaded. 24 hours after launching your campaign the first results will be visible.
7. Is Spotify Advertising interesting for Festivals?
Due to the music specific targeting possibilities, advertising on Spotify is ideally suited as part of the marketing mix of your festival. That's because Spotify makes a clear distinction between music and non-music related campaigns and provides more options for music related campaigns, like fanbase targeting. Fanbase targeting in combination with musical genres ensures that you reach the right audience for your festival.
8. Is Spotify Advertising interesting for Artists?
For artists music specific targeting is also available when you're advertising on Spotify. This makes promoting your new merchandise, tour or album with the right audience easy, because you target on your fanbase and musical genre. By using these targeting options your ads will be shown and played for the right listeners.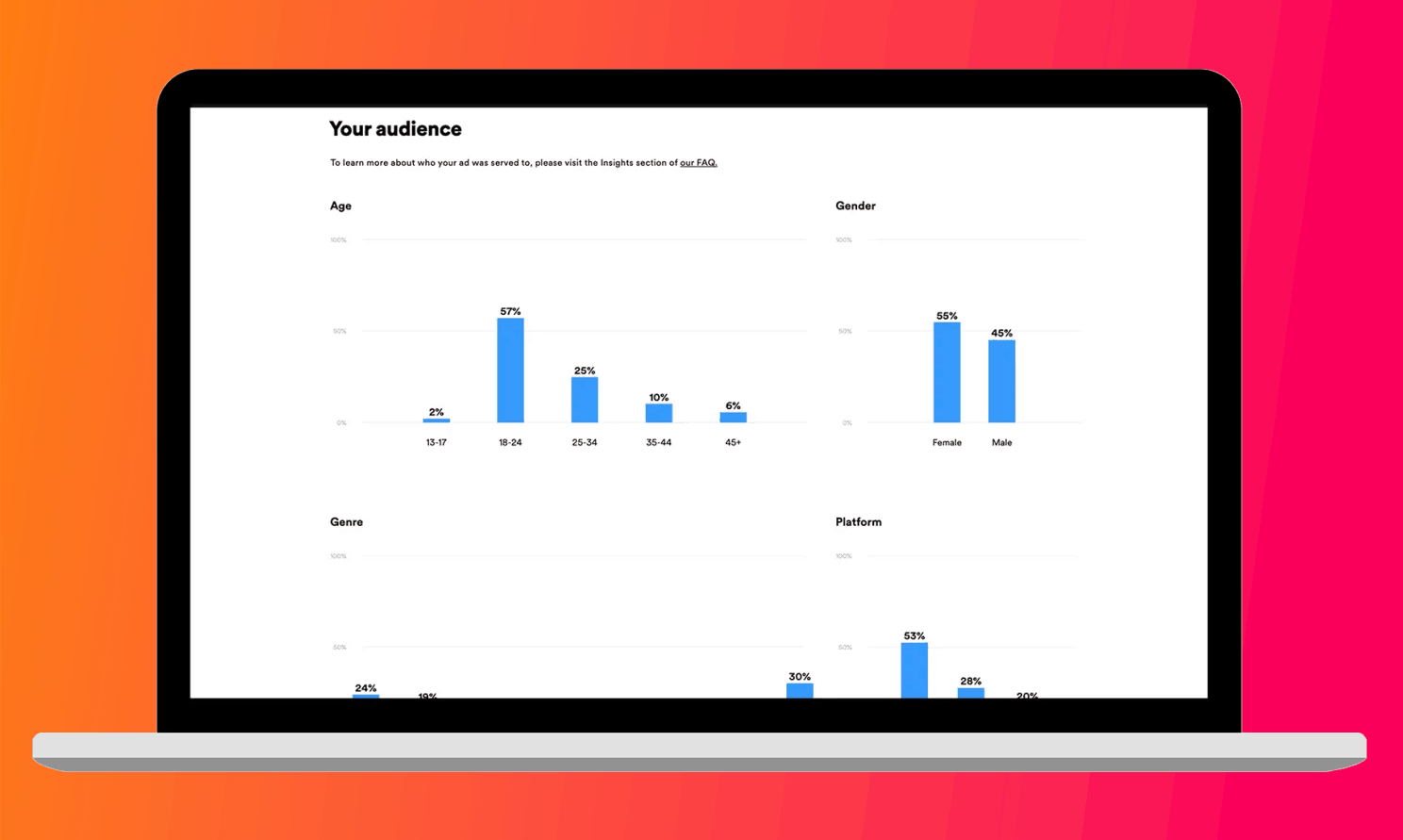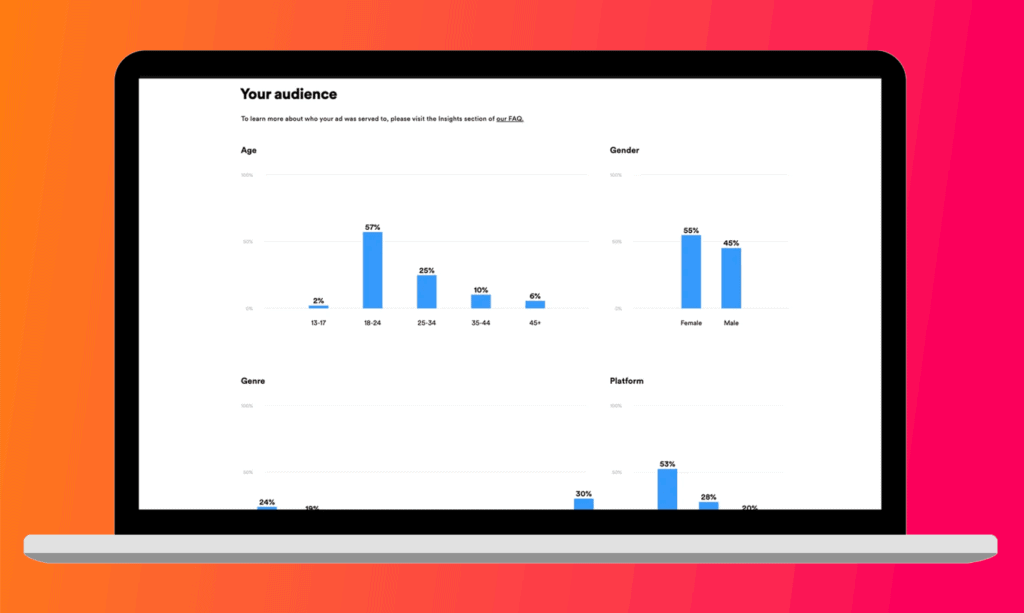 9. What is the future of Spotify Advertising?
Streaming music is still hugely popular and the amount of users still rapidly rises. In 2019 alone Spotify gained a staggering 65 million new users. Because of this ongoing growth and the already high amount of people using the ad-based Spotify platform mean that Spotify Advertising still shows huge potential. By taking over other podcast services and supporting podcast creators Spotify aims to take over the podcast market, thus creating even more growth for its platform. With Spotify Advertising possibilities for podcasts being expanded as we speak and the fact that both ad-based and Premium users will receive ads, Spotify Advertising promises a great prospect as channel for your marketing mix.
10. How to start advertising on Spotify?
Want to know more about Spotify Advertising? Let us know your question or drop by at our office. We love to explain all the Spotify advertising possibilities whilst enjoying a nice cup of coffee. We gladly support you by determining the right strategy, creating effective Spotify advertisements and managing your campaigns. Curious about the possibilities? Be sure to call us at 085 130 2795 or use our contactform.