To organize a music festival is a dream for many people. Entertaining thousands of people on an event that you put up yourself, that's what you want to reach. But there is a lot more than meets the eye when you start organizing your own music festival. Festival management requires a lot of planning and a wide set of skills. Of course the production of the festival itself comes first, but how to sell tickets for something that is not physically there yet? With this extensive festival checklist filled with tips and tricks on organizing a music festival and music festival marketing we take you through the steps you have to take to make your very first festival a huge success!
In this blog we'll tick off the following parts:
Festival Planning Checklist

Plan of action

Budget

Festival Marketing

Licenses

Insurances and obligations

Productions and suppliers

Staff
Organize a music festival with our Festival Planning Checklist
You might be wondering "What do I need to organize a music festival?". Organizing a music festival isn't something to take lightly and to make things easier for you we made a complete festival planning checklist for your organization, loaded with tips and tricks to guide you forward. Download the Festival Planning Checklist through the form and your festival will be a great success!
Festival Planning Checklist
Enter your email address, click the download button and you receive the Festival Planning Checklist instantly.
Want to organize a music festival? Start with a plan of action!
From April until October the massive stages and multi-color festival tents rise from meadows and other sites throughout Europe. A full year of preparation precedes this process and that's why the first thing you need to do is lock the date and arrange the location for your festival. Take into account which other festivals might be organized in the region, so you won't have fierce competition and scheduling conflicts.
Once this has been arranged you start with your plan of action for the festival. In this festival plan of action you divide the tasks between the people in your organization and you determine the time schedule for the festival. You also record who your partners are and which suppliers you will be working with for the differents parts of your festival. All these things will be processed in a document that will be the foundation for your master festival planning document.
Master festival planning document: Build-up, festival, dismantle
The master festival planning document entails the entire production of your festival and consists out of three parts: The build-up, the festival itself and the dismantling. In this document you process the general information, the division of tasks and a time schedule that describes exactly what has to be done at each exact moment during the build up, the festival day and the dismantling of the festival. The master festival planning document is a living document that changes along the way during the process of planning the entire production.
How much does it cost to organize a music festival?
After finishing the plan of action the next step to organize a music festival is to determine the budget. Budget control is one of the key qualities of a good festival organizer and a key part of festival management. The costs of a festival are variable and depend on a lot of factors. That's why a festival budget won't be a fixed document but will be adjusted along the way, moving budget from one cost item to another. 
We do recommend to determine a realistic maximum spend in advance to work with. By doing so, you keep the costs of organizing a music festival controllable and make sure that certain cost items won't take a big slice from your total budget. After all, organizing a music festival for the first time often is all about making choices. Requesting quotes and offers from different supplies can give you a good image of the costs you will make per part of your budget.
Also we recommend to make an estimate of the number of expected visitors so you can organize your budget based upon the proceeds from ticket sales, consumption and food tokens, parking, transportation and possibly merchandise. It is most important that the costs and revenues are carefully weighed up so you won't see costs rise unexpectedly when you organize a music festival.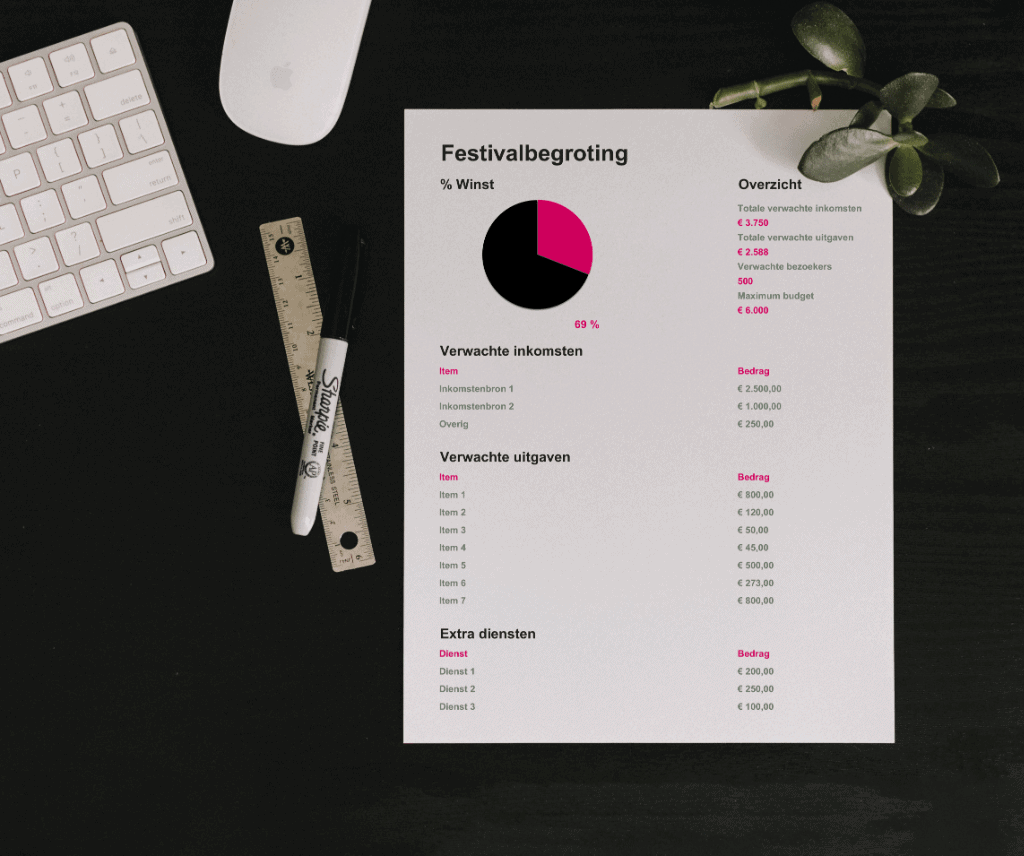 Festival Marketing: Organizing a music festival can't exist without it
Music Festival Marketing is a key element when you want to organize a music festival. Without a good concept your festival won't stand out from the competition. Without good content you won't appeal your potential visitors. By including marketing in your process from the start you will look at things from another perspective. Distinguishing yourself in this saturated market is extremely hard for most festivals. Next to this, you probably have your hands full already with managing the production of the festival, which means having another task added might be a tad bit too much. That's why it might be a good option to consider working with an online marketing partner that can take the music festival marketing off your hands. (Coffee? 😉 )
Concept
Festivals that lack a good concept won't stand out from the crowd and have a harder time telling a contiguous story to their audience, making it harder to attract crowds. Thinking about what will be the unique selling points of your festival is essential to distinguish yourself and make your festival into a success. To organize a festival is all about telling a story and the concept is the foundation for it.
Content
Posting content just for the sake of it doesn't cut it, ever. A logical storyline and structure in your content schedule will help you post more relevant content at the right time to your audience. A thorough online strategy, where your content planning is part of, will aid in knowing exactly what you have to post at each exact moment. 
When you organize a music festival will transform you into an expert on various disciplines. But of course you don't want to become a Jack of all trades, master of none. Video, images and text are the foundation of your marketing campaign and for these skills also goes that the best results are delivered by employing the right people for the task. For your artwork, it's best to ask for quotations from different designers and explain to them what you want to have in a clear design briefing. All things created are part of the content creation for your festival and it's a lot of work to handle. If your mind starts reeling at the idea of having to add another task to your to-do list, it might be a better option to outsource the music festival marketing altogether so you can do what you do best, and keep your festival production going in full swing.
Advertising
Reaching the right audience is not something that comes naturally. Especially when you organize your festival for the first time, you won't have a huge fan base that's instantly reachable through your channels. You need to build it. That's where festival advertising comes to play. You reach your audiences in different ways and sell your message outside of your own. This makes advertising and essential part of music festival marketing.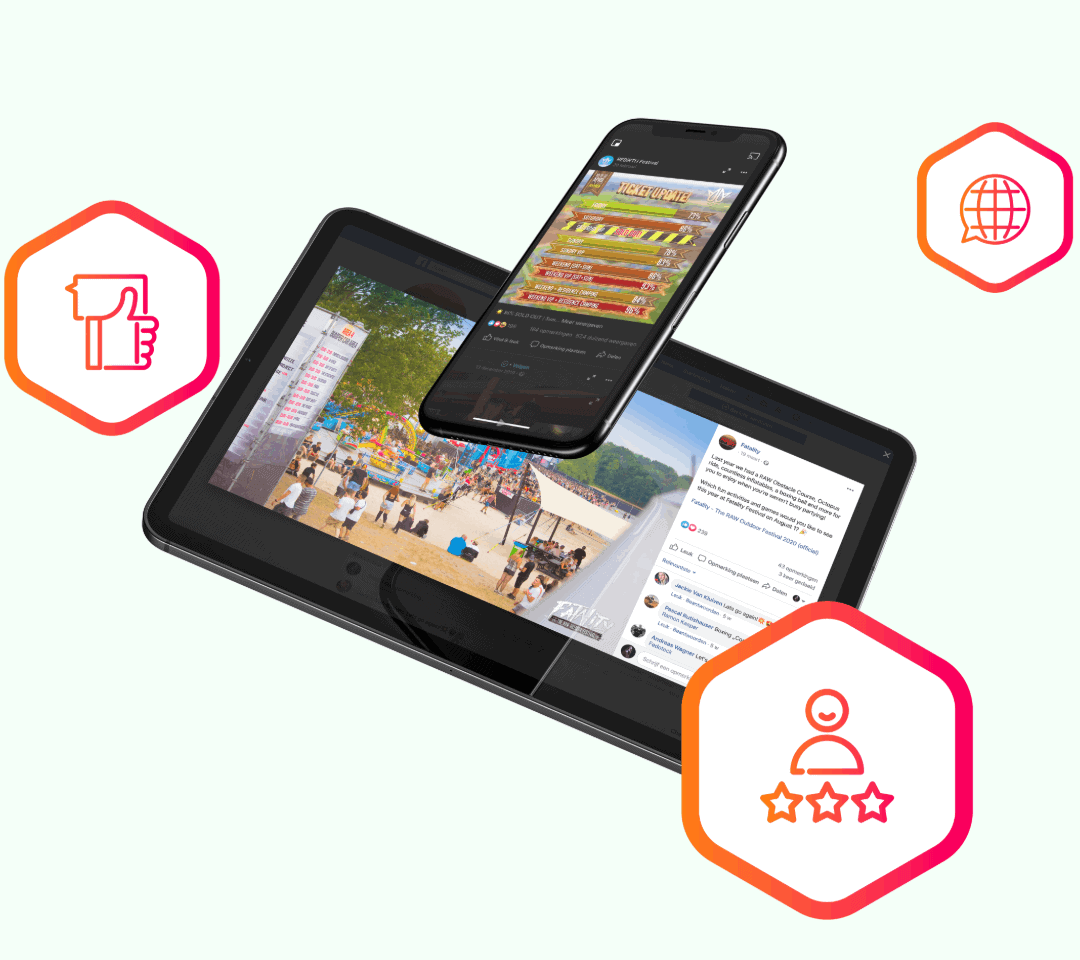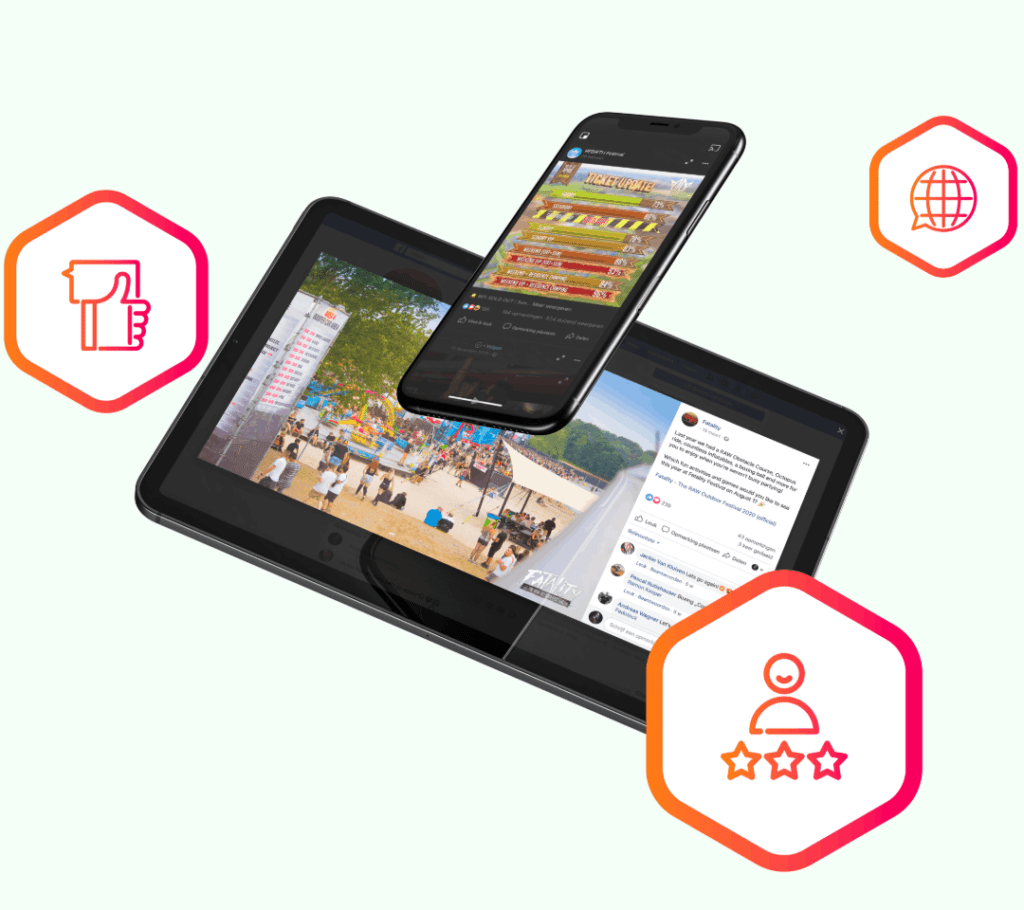 The production of your own music festival
To organize a music festival revolves around working with the right partners during the production. The production of your festival mostly is divided into different branches, like the site production and pre-production of the stage design, engineering et cetera. Next to this, we also made a full list of suppliers, partners and other parts of the production to make your festival a success.
Site production
The site production includes everything that has to do with the festival site and terrain. Think of infrastructure, power supplies, fencing, toilets, plumbing, water, tents, road plates, cash registers, wooden decks, trash cans, picnic tables, lockers and so on. In the plans you make for the site production, you take into account everything regarding the regulations from the fire brigade, police and crowd management.
Many parts of the site production plan are key for your festival's permit application and safety analysis. That's why it's very important that this is done thoroughly when you're organizing a music festival. For smaller festival organizers it can be doable to do it yourself, but generally speaking it's best to involve an expert partner to make sure everything runs smoothly during the lead-up to and during your festival.
Pre-production
The transformation from a meadow with some festival tents planted within the site perimeter to a full-blown immersive experience relies heavily on which partners you employ for your production. Throughout the years, a vast network of suppliers emerged specifically for the festival industry, consisting of companies specialising in acoustics, light- and stage engineering. Which companies and partners you hire largely determines how your visitors will experience your music festival. It's safe to say that during pre-production everything is made ready for the final product: The festival that you will be organizing! Think about elements such as the stage design, creating decorative elements, programming the light shows and creating and adjusting the lay out for the sound systems.
Suppliers
To get your full music festival production in order, we have made a list of suppliers to use during organizing your own music festival that you can find below. You can also use the Start Moovin Festival Planning Checklist, because this list is also included in there.
Service providers and intermediaries
Website & app developers

Designers (artwork)

Marketing agency

Booking agencies

Ticketshop provider

Accreditation and event planning tools

Photographers, videographers

Tokens and wristbands supplier

Security/crowd management/facility management

Walkie-talkies

Emergency plan

Traffic control

Hospitality

Artist handling

Transportation

Accommodations

Crew coordination

First aid

Festival crew

Event- & bar staff

Ticket scanners

Food & beverages

Visitor catering/Foodtrucks

Bars

Crew catering

Cleaning company

Entertainment (dancers, promo girls, fire breathers, stilt walkers, etc.)
On-site tech & engineering
Stage & Theme production

Decoration

Light & LED-screens

Sound system & acoustics

Light operators/Sound engineers

VJ

Pyro & FX

Inflatables

Site crew (Build up tents, stage, scaffolding)

Stages

Fireworks

Cables & Cable trays

WiFi, internet & mobile network
Facilities
Equipment rental companies

Site accomodations (Central post, dressing rooms, media room)

Cash registers

Toilets/Sanitation

Power generators 

Fencing

Barriers/crowd control fences

Vehicles

Gators

Platforms/Genies, Telehandlers

Forklift

Cars

Lockers

PIN terminals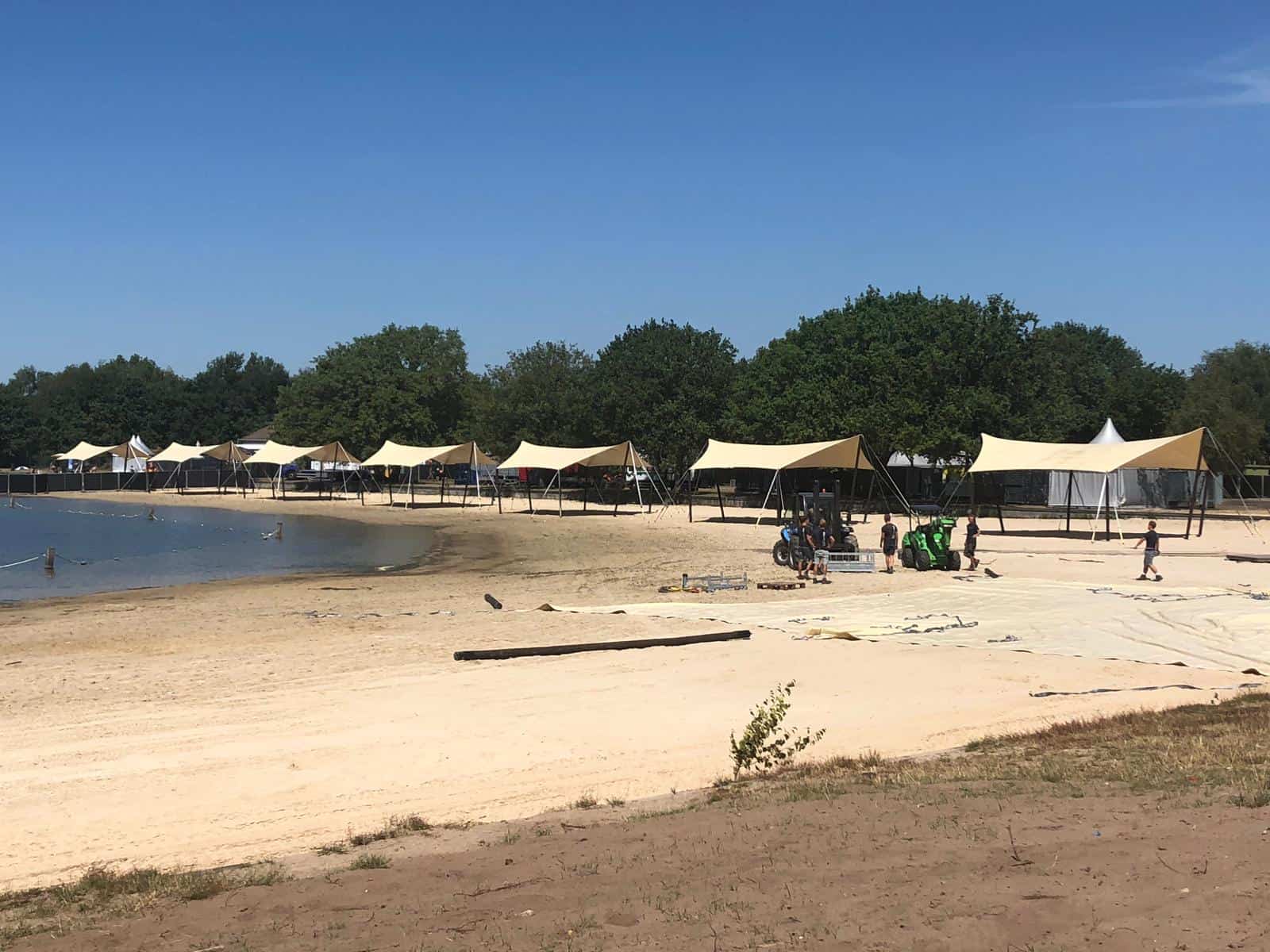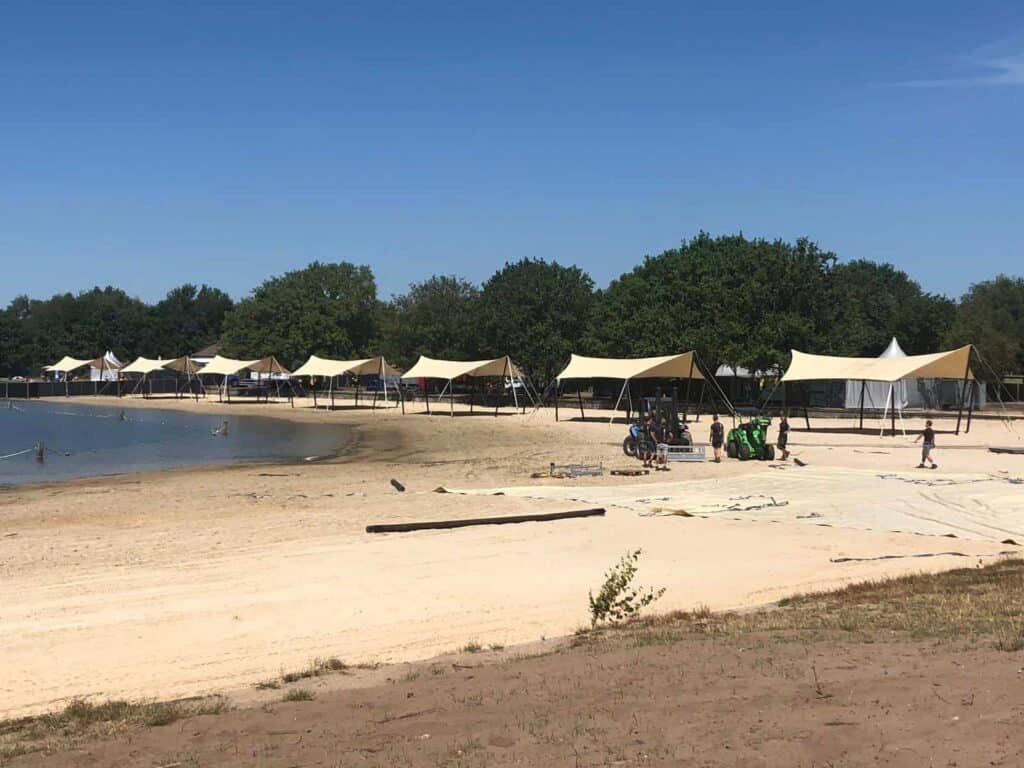 How to arrange the permits when you're organizing your own music festival in The Netherlands?
The permits required when organizing your own music festival may differ per municipality. It's best to inquire with the local government which permits are needed. They can help you forward on which festival permits are needed. As the process of getting a permit differs per city, region and country that's the safest way to go. In the next part we will show the permits needed for organizing your own music festival in The Netherlands.
Event permit
An event permit is mandatory in every municipality in The Netherlands and its costs rely on the size of your festival. The fees vary per municipality and very from 40 to 4.000 euros. When applying for a permit a lot of documents are required. Think about a map of the festival site, the emergency plan including emergency routes, construction drawings of festival tents with calculations for maximum wind- and weight load and many other parts of the production plans.
Make sure to start all procedures in time, some municipalities have deadlines for applying for permits, which means that applications after the deadline won't be taken into consideration. 
Other permits
When you are organizing your own music festival, several other permits might be needed depending on local- and provincial legislation. Think about environmental permits for exemption from sound restraints or even light pollution. When serving weak alcoholic beverages an exemption from the Dutch law on drinks and catering is required, when serving spirits an extra license for serving strong alcoholic beverages is required. If you want to end you festival with a bang through a fireworks display you will also need a fireworks permit, for this an exemption from the Dutch province where the festival is held is required.
Insurances and obligations for festival organizers
Every festival in The Netherlands is obliged to pay a fee to Buma/Stemra (the Dutch collecting society) when live music is played in front of an audience. Make sure to contact them to arrange all things regarding their fees and licenses. Insurances mostly are not mandatory, but in the light of safety and also the current corona crisis are very recommendable. Insurances for festivals tend to be very expensive but can proof to be essential when unforeseen conditions lead to the cancellation of your festival. When taking out insurance for events or festivals it's good to pay close attention to the conditions to ensure your festival is well protected against unforeseen circumstances. It might pay off to request quotes from different insurance companies, as the prices and conditions tend to vary a lot between different providers.
Festival insurances offered:
Liability

Cancellation

Equipment

Accidents

Damage and destruction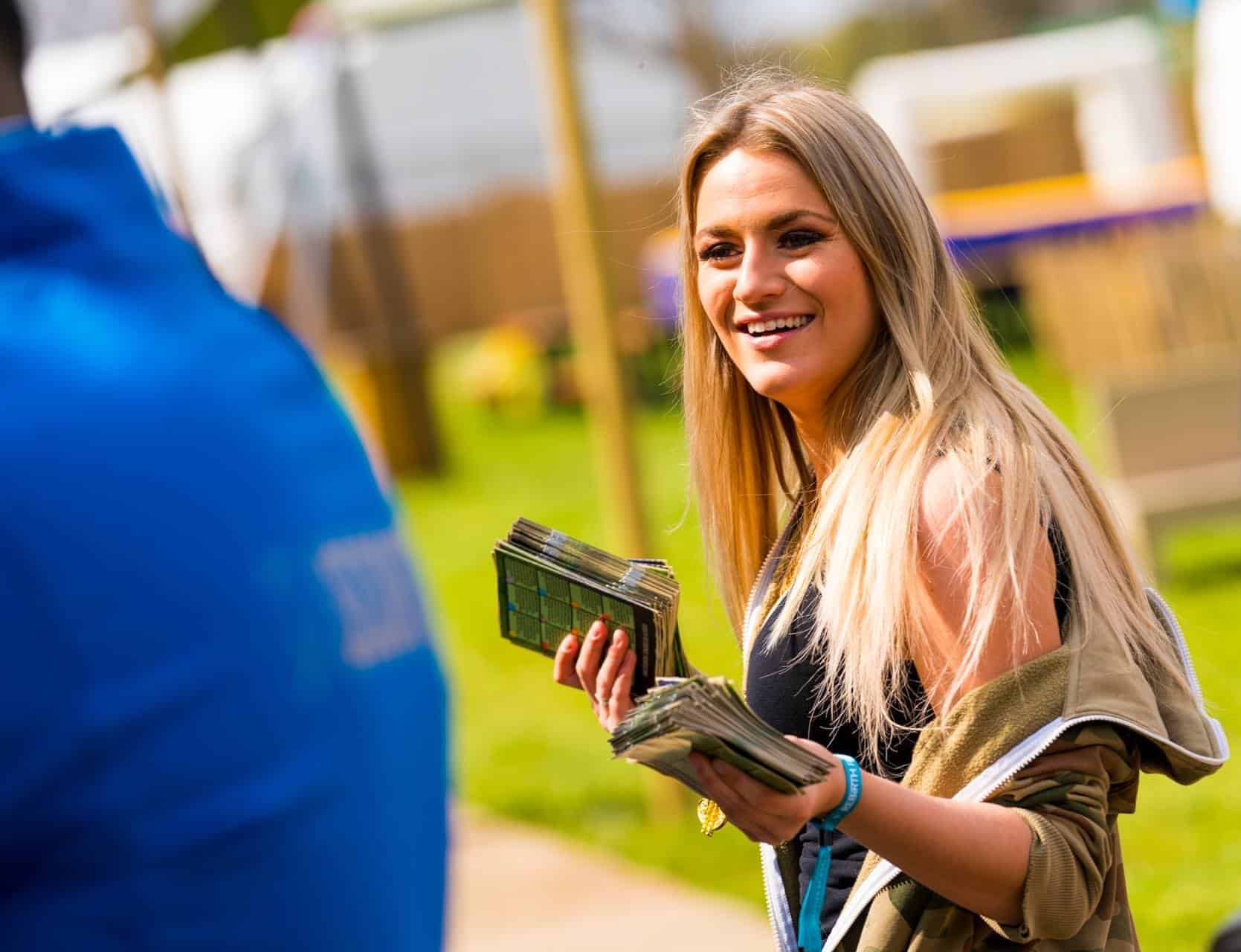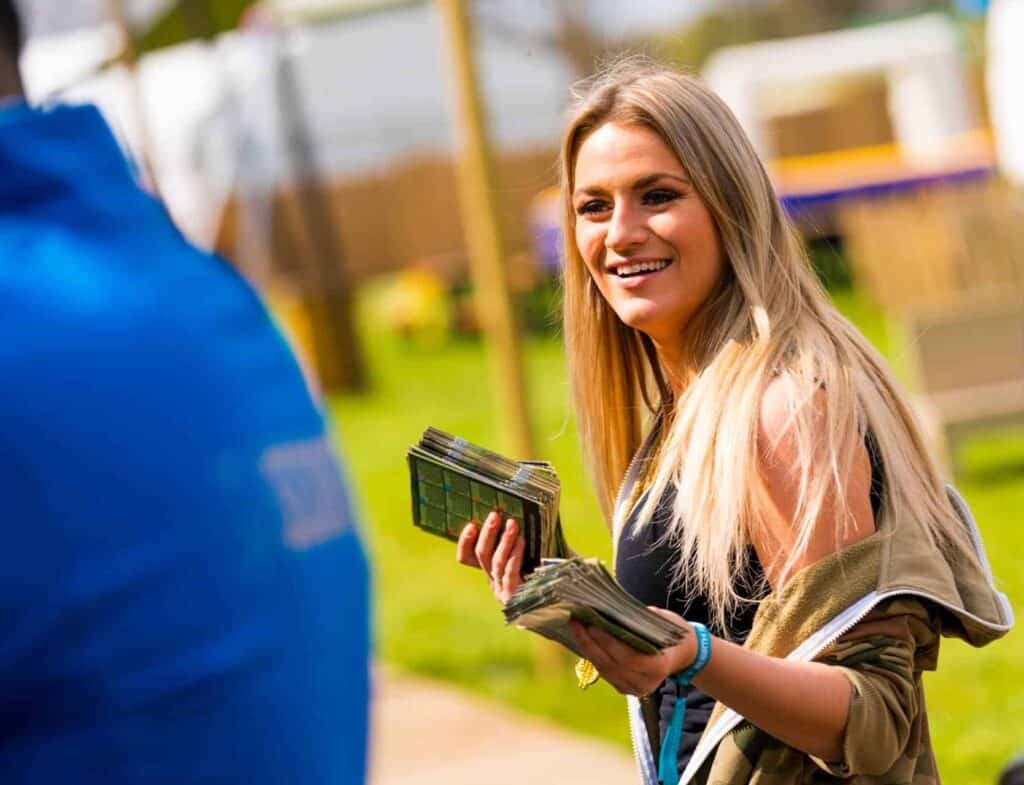 Festival staff: Which people work at your festival?
When you advance with organizing your own music festival, you need to consider which people you wish to employ. Many festivals rely on their volunteers, but you also have to deal with hiring crew like security, first aid, catering staff and so on. These people must all have certain certifications or finished courses, so it is important to inquire about this. There are many suppliers that can aid and support you in finding the right crew and assist with crowd management and security. Also important is managing the crew accreditation, the reception and the coordination of festival staff to keep things running smoothly when you're organizing your own music festival.
Security guards

First aiders

Fire patrol

Stage managers

Artist handling

Ticket scanners

Cashiers

Locker handout

Catering crew

Sound techs

Light operators

VJs

Central post crew

Merchandise sellers

Cleaners

Photographers

Videographers

Online content creators and marketeers 😉

Infrastructural crew

Volunteers
Music speaks, we listen
A lot comes to play when organizing your own music festival. Are you organizing your own music festival? Start Moovin has worked together with festivals for years on concept development, creating content, creating marketing strategies and plans and running advertising campaigns. Curious what Start Moovin can do for your festival? Feel free to contact us! We'd love to get in touch with you and work together to make your festival a great success. Call us at +3185 130 2795 or fill out the contact form.